Are you worried that your hair is ageing you? Certain hairstyles make you look old before your time, while others can give you a more youthful appearance. Covering up grey hairs is a quick solution to looking younger, but there are many different colours and cuts that can give your locks a new lease of life.
Signs of Ageing Hair
There are many different reasons why the condition of our hair can make us look older. The good news is that, with the help of our expert stylists, you can turn back the clock and reverse the signs of ageing.
The top signs of ageing hair include:
Thinning/wispy hairs
Greys
Hair loss
Loss of volume
Cuts That Make You Look Younger
You can buy all the anti ageing creams in the world but if your haircut is ageing you, only a fresh new look will do. At Belle Amour, our expert stylists know exactly what cuts and hair colours can make you look younger.
The Bob
Short hair can be ageing for some, but get the right cut, and your whole face can look years younger. The Bob is one of those hairstyles that our stylists can get really creative with and style to compliment your face and jawline perfectly.
When you opt for a Bob, a lot of the length and weight of your hair will be cut away. This shorter style will remove split ends and give your locks a fresher and more youthful appearance.
A Fabulous Fringe
A fringe can change the appearance of your entire face for the better. A perfectly shaped fringe can hide lines and wrinkles on your forehead and make your face appear smaller.
A fringe done badly can be a disaster, whether you are 23 or 63. Speak to our expert stylists here at Belle Amour to find out whether a fringe could be the anti-ageing hairstyle you have been looking for.
Shoulder Length Cuts
It is a myth that mature women need to have short hair – this is simply not true! Older women can look fabulous with shoulder length and longer hair styles. Shoulder length hair can be cut to frame your face and layers can add extra bounce if your hair is thinning and losing volume. Don't feel like you have to settle for short hair just because you're older, longer styles can rejuvenate your whole appearance.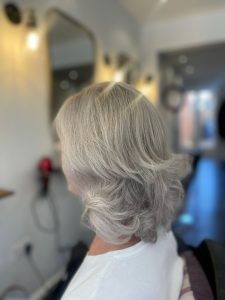 5 hair colours for a more youthful look
A hair colour change can be an effective anti ageing technique and our stylists can help you find a shade you love. Covering up grey hairs is a good place to start, but there are many colours that can transform your appearance back in time.
It is important to choose a hair colour that not only makes you look younger, but also compliments your skin tone. For example, if you have cool skin undertones, ash browns and ice blondes will suit your natural colouring.
Our expert stylists recommend these five hair colours to make you look younger:
Caramel Highlights
Caramel highlights are a great choice if you are brunette looking to add a little more life to your brown hair. Highlights can add extra dimension to your hair, creating a more voluptuous and youthful look. Also, caramel is an effective shade for giving older skin a warm and rejuvenated glow.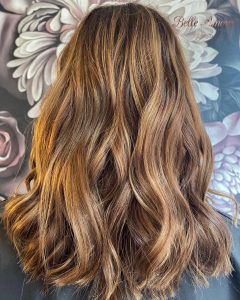 Playful Pastels
Pastel colours have been growing in popularity in recent years, and you don't have to be in your twenties to make the most of this trend. Rose gold or champagne pink colours can work magic on hair in need of a new lease of life. Dusty silver colours are popular amongst women of all ages and can easily give your greys an attractive refresh.
Radiant Reds
If you are a natural brunette and want to turn back time, a rich copper or shiny auburn colour can do just that. The warmth of red hair gives mature skin a radiant glow and can result in a more vibrant and stylish look.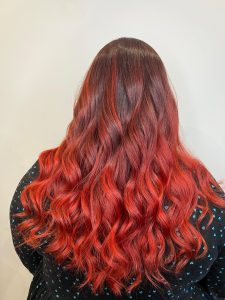 Soft Black
Black hair does not always age well, and you may want to change the shade slightly as you get older. To counteract the harsh greys that often appear when you have a naturally dark base colour, softening the tone can work wonders. A soft black colour is between brown and black and gives hair a healthy shine.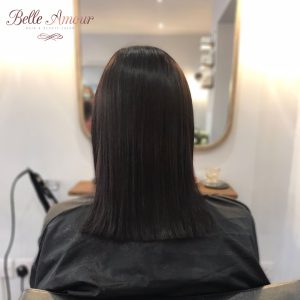 Honey Blonde
It is true that lighter hair doesn't suffer the test of time as severely as dark hair. That being said, honey blonde highlights or a honey balayage can bring warmth to your hair and your skin. Choosing the right shade is essential, and our stylist will find the perfect colour to make your hair shine and skin glow.
Get Younger Looking Hair With Belle Amour
At Belle Amour, our expert team can make you look 10 years younger with the right cut and colour. We will take your ideas and give your hair a makeover of your dreams. We know that shoulder length cuts, classic bob styles and perfectly shaped bangs are all age defying haircuts that our clients of all ages adore.
During your consultation, our expert stylist will work with you to decide which colour will compliment your natural colouring and which haircut can make you look younger.
Get in touch with our friendly team today or give our reception a call at 01276 423113. We can't wait to make you look younger with a fresh, new style.